A sale in Atlas CRM
A sale is a new object that Atlas CRM introduced to Jira and Confluence. You can use a sale to manage a potential sale from its creation to the moment it's closed. On this page we are going to look into the concept behind a sale.
Sale information
When you open a sale, the first thing you see is the sale's information. This page contains information about the sale, the customer, financial information and metadata. When a field is left blank, it is not visible on the page.
Main information contains the name of the sale and the user that is assigned to the sale. Assigning a sale is useful when you want to document who is responsible for this particular sale.
Customer information contains the customer that is linked to the sale. After you link a customer to a sale, you will find the sale in the customer profile.
Financial information contains information about the value of the sale. You can fill out the estimated revenue the sale will bring once it is won. And you can set the estimated probability of the sale.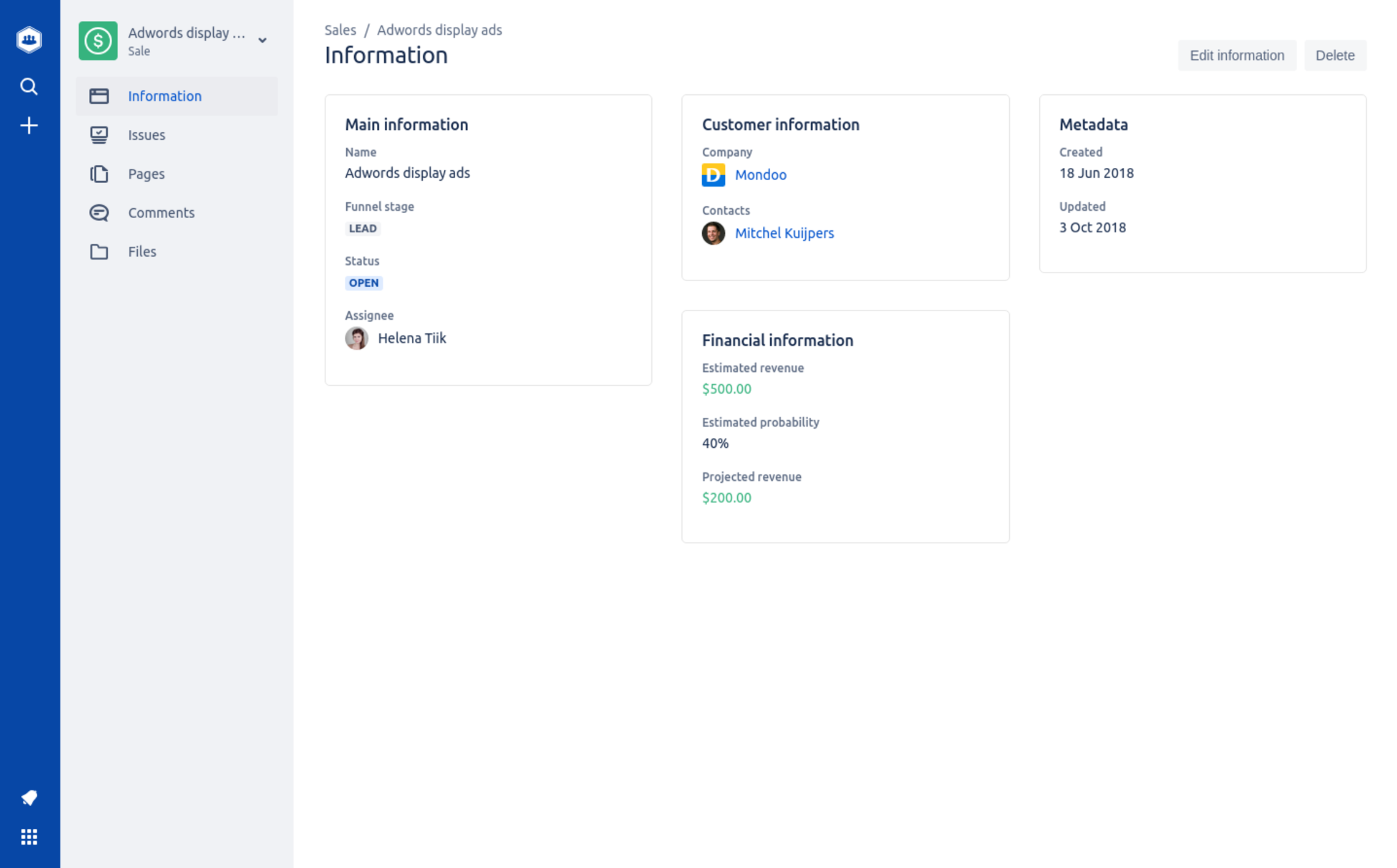 The estimated probability is a percentage and indicates how sure you are that the sale will be won. In early stages, a lot of sales are often uncertain. But once they progress through the sales funnel, you might get indications that the chance of winning the sale increases.
The estimated probability is used in the sales dashboard, where it helps you understand the estimated value that is in each funnel stage.
Link issues to a sale
The real power of managing sales in Jira is in the ability to plan and manage the work that needs to be done to win a sale. You can do this by linking issues to a sale.
The issues tab of a sale contains an overview of all linked issues and allows you to create new or add existing issues.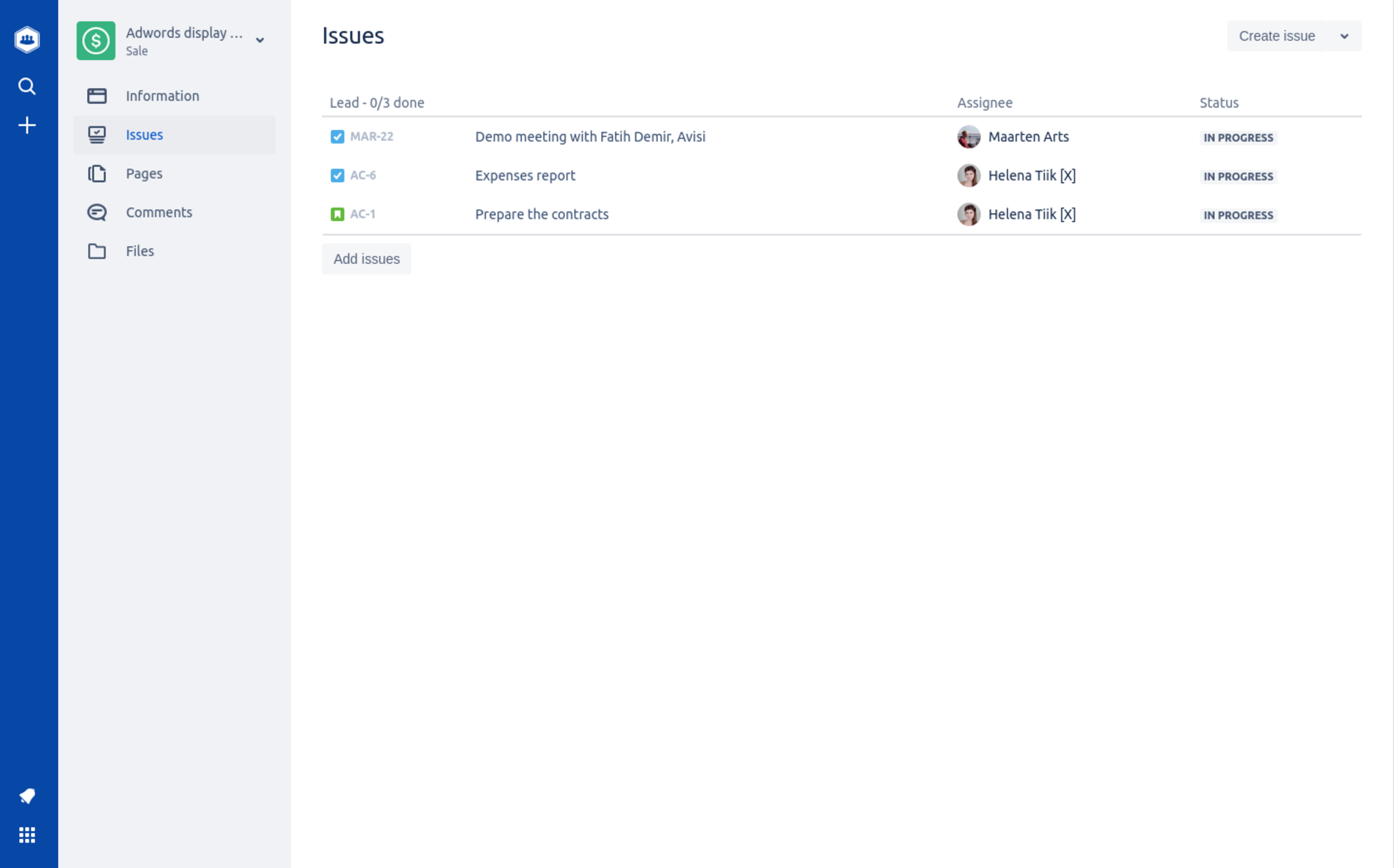 Document development
When you work on a number of sales, it's helpful to have an overview of the progress of your sales. That's why we link work to our sales. Each sale gives you an overview of the work that is being done. If you become unavailable, a colleague has all the information he or she needs to take over.
Plan work
You have a higher chance of winning a sale when you plan the work that has to be done. Create issues inside a sale to plan your work ahead.
Plan your work according to the stage of the funnel the sale is in. You can link issues to specific funnel stages to create a more detailed plan.
Delegate work
Work together to win a sale by planning work for your colleagues. Simply assign the issues to your colleagues, as you are used to in Jira.
Design your own sales workflow
Learn about the sales funnel and how your admin can adjust it to match your workflow. Use Jira functionality, such as workflows, to take it even further.
Link pages to a sale
Managing sales in Confluence empowers you to share knowledge and collaborate around documents related to a sale. You can do this by linking relevant pages to a sale.
The pages tab of a sale contains an overview of all linked pages and allows you to link new pages.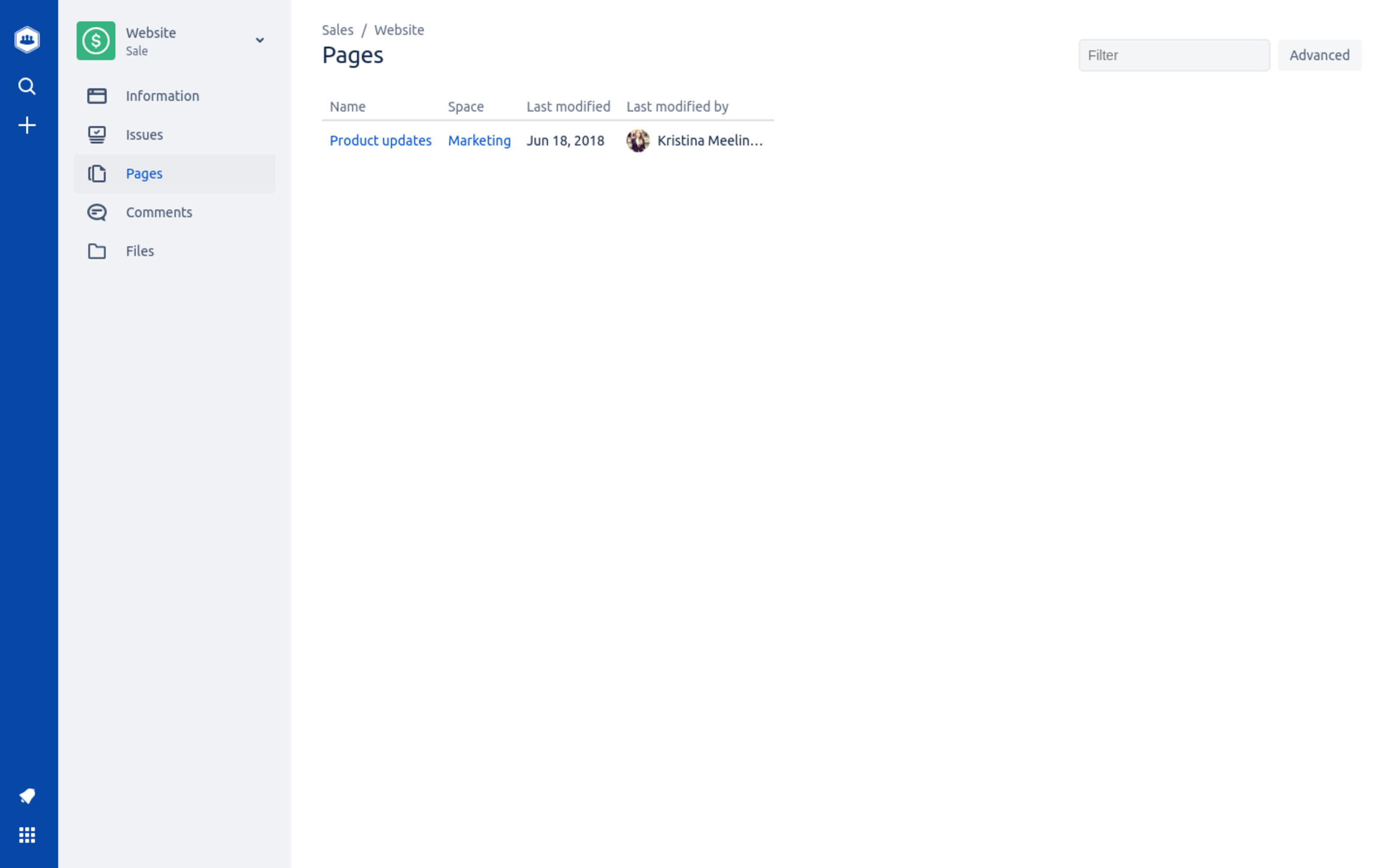 Sale documents
A sales process often relies on documents. For example: documents about product or service negotiations; agreements and contracts; invoices that are to be paid; and much more.
You can link all of these documents to the sale and create a complete overview for you and your colleagues.
Research
Some sales processes require you to do research. Who is the customer? What is their exact problem? How can we help them solve their problem. You can link this research to your sale and collaborate with your colleagues to make sure you're doing everything you can to win.